---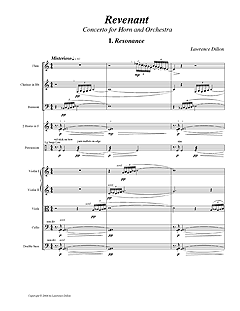 c. 18:00
2 Flutes (2. dbl Picc)
1 Oboe
2 Clarinets in Bb
1 Bassoon
1 Contrabassoon
2 Horns in F
Percussion: Large Suspended Cymbal, Medium and Low Toms, Glockenspiel
Strings
---
A revenant is a person who returns from the dead.  Revenant: Concerto for Horn and Orchestra was composed between February and November 2004.  While working on the piece, I had thought I was addressing issues surrounding the death of my father, but I was surprised to realize, as I neared completion, that the piece was actually about me, about losing one's way, and stumbling back into a renewed awareness and appreciation of life.
The first movement is a dirge, or, more accurately, the memory of a dirge from long ago.  The second movement is a simple song form, with the return of the opening melody floating off into the distance.  The third movement, Revelry, is an exuberant dance: short, fast and life-affirming.
Revenant: Concerto for Horn and Orchestra was commissioned and premiered by David Jolley and the Carolina Chamber Symphony, February 25, 2005 at the North Carolina School of the Arts. It won second prize in the 2005 International Horn Society Composition Contest.
---
ORDER Revenant: Concerto for Horn and Orchestra: