Sonata: Motion (2004)
---
for flute and piano or violin and piano 17:00


I. Motion/Emotion play excerpt

(MP3 format)

4:45
II. Emotion/Commotion
3:45
III. Commotion/Motion
8:30
---
Sonata: Motion exists in two versions: for flute and piano and for violin and piano. The first movement features a shimmering, sensuous accompaniment to a sinuous solo line. The second movement, marked Lento fantastico, contrasts aggressive outbursts with ethereal chorale textures. The final rondo alternates between a blues cantilena and a whimsical tribute to early rock and roll.
Each movement explores the contradiction implied in the movement title (Motion/Emotion, Emotion/Commotion, Commotion/Motion), sometimes resolving the conflicts, sometimes exaggerating them.
Sonata: Motion was premiered on 17 May 2005 by Tadeu Coelho and Allison Gagnon at the University of North Carolina School of the Arts. A recording of the violin/piano version, featuring violinist Danielle Belén and pianist David Fung, will be released on NAXOS in 2010.
---

ORDER SONATA:MOTION:
---
Click image to view score
I. Motion/Emotion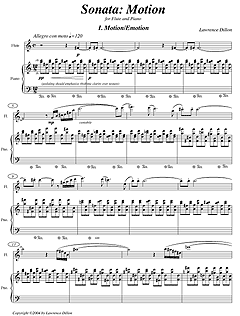 "After intermission, we were treated to the world première of Lawrence Dillon's appealingly impressionistic work Sonata: Motion, whose movements' titles provide a roadmap of the composition: "Motion/Emotion," "Emotion/Commotion," and "Commotion/Motion." Dillon (b.1959) teaches composition at the NCSA and has already written extensively for the flute. He is clearly at ease with the instrument.

The first movement is a study in contrasts - the low pedal point of the piano against the clear flute in the mid-range, and rhythmic punctuations against sustained passages - ending in what seemed to be a ternary counterpoint. The second movement is full of interesting effects, including humming into the flute while playing and hushed muted piano with more incredibly soft playing by Coelho. The last movement gives way to a very jazzy bass line in the piano while the flute is inclined to be more chromatic. A slow bluesy section is interrupted by baroque ornaments in the flute, leading to a pregnant pause that prepares the way for a return of the start of the movement. This is an enigmatic yet enjoyable piece I would like to hear again."
- Peter Perret, Classical Voice North Carolina